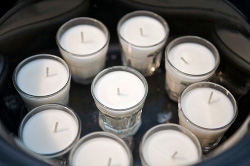 All you need is some wax, some wicks + wick bases, and some candle-holders. I used soy wax because it's vegan and I think it makes superior quality candles (just my preference, I love soy candles!). It's available at any craft store along with a selection of other options. I used precut wicks that came in their bases, because they were really cheap. But you can also buy wick string and cut it yourself. Both are available at the craft store. For candle holders, I just used a bunch of shot glasses I'd purchased years ago for a party, and never even opened. You could also upcycle your old candle holders, or hit the thrift stores for anything from shot glasses to tea cups, whatever you can imagine can become a funky candle holder.
Optional additions include color (candle dye is available at the craft store) and smell. I used eucalyptus essential oil, but you can also buy scents specifically designed for candles (though you certainly don't need to and can use any essential oil you've got). You'll also probably want a wooden skewer for stirring hot wax (a chopstick or a length of wire, like from a hanger, would probably work just as well)
Once you've gathered all your supplies, set aside some time when you'll be around the house for a couple of hours. I made these candles on Sunday afternoon, whilst cleaning the kitchen and then suggling with the husband for movie time. Just make sure you'll be nearby and available for frequent checks. You don't want to deal with a waxy mess (or worse!).
1) Spoon the pieces of wax into your candle holders and arrange them in the bottom of the crock pot. Don't overcrowd and definitely don't stack! Turn the crock to high, cover, and go do something else.
2) 20-30 minutes later you can check back. Your wax will probably be melted and you'll probably notice your candles aren't as full as you'd like. So carefully add more wax to each container. You may have to do this for a few rounds.
3) When the candles are as full as you like and you've let them get good and hot and melty, it's time to add the essential oils. Using a dropper add 5-15 drops of your odor-of-choice to each candle. I wanted a more mild, mellow vibe so I only used 5 drops. If you were to use color, this is where you would add the dye as well.
4) Stir it up!
5) Add your wicks. Carefully insert them and make sure they're centered. They should stay straight up on their own, so don't worry about that.
6) Turn the crock pot off. Leave it uncovered. Go do something else.
Over the next few hours the wax will cool and harden. They'll be hard enough to handle if you'd like to remove them after a few hours, but give them at least 6+ hours before you really toss 'em around. They need plenty of time to get good and set. And that's it, just a few hours of monitoring and six easy steps gets you these adorable, customized gifts that anyone would be delighted to receive.