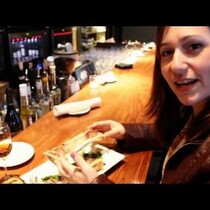 Posted November 22nd, 2013 @ 2:11pm
My favorite cocktail connisseur Jacob Grier at Metrovino (YUM!) suggests this fabulous Hot Toddy with aged aquavit by local Krogsted Gamle. Try Jacob's other cocktails to be WILDLY IMPRESSED.
***And try the BONE LUGE if you dare! I did. (More festive drinks below the video!)***
Mexican Coffee, Jamaican Coffee, Irish Coffee and more HERE.
Apple Cider and Tequila Hot Toddy and much more HERE.
Make a reservation to order an IRISH COFFEE at HUBER'S HERE. (This is a holiday tradition for my circle of friends. If you haven't done it, you're missing out.)