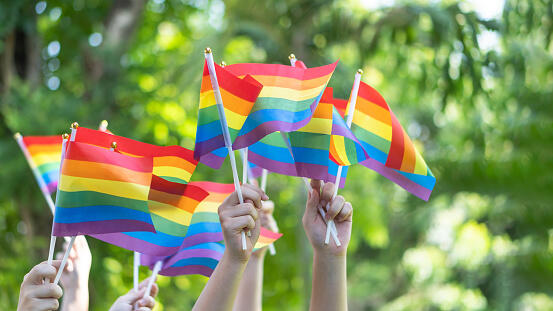 It's Pride Fest time at Waterfront Park in Portland. Look for our iHeart Radio booth and in the Pride Parade Sunday morning. Our iHeart Radio Fam will be rolling next to a Sprinter van 35th in the lineup of 180 entries. Woo Hoo!!
Migration Brewery had the idea to parter with fellow local brewers to celebrate the LGBTQ+ community with Craft Beer Pride Week. Each night, a different participating venue will host an evening of music, beer, and food specials. Festivities will include drag bingo, Migration's Colors of Love West Coast Pilsner release, and more.
Horns up for HAREFEST 11! 23 rock bands on 3 stages, food, onsite camping and a whole lotta hair!
Hear Ye Hear Ye!!! It's the 70th Annual Sherwood Robin Hood Festival
The largest free jazz festival west of the Mississippi happens this weekend in Portland. The Cathedral Park Free Jazz Festival runs Friday through Sunday in the St. Johns neighborhood.
At Tea Fest PDX the goal is to NOT spill the tea but to drink it!
Portland's Fernhill Park will host Tiger Tiger, a festival created *for* AANHPI *by* AANHPI. Five bands, eight of Portland's hottest food vendors, visual artists, dancers, and poets--this is Oregon's largest festival uplifting Asian American, Native Hawaiian, and Pacific-Islander communities.
Explore Multnomah Falls and take a guided tour of the Gorge Waterfalls. The beauty of the canyon walls and rock formations, breathtaking waterfalls and awe-inspiring visas that make the Columbia River National Scenic Area one of the Seven Wonders of Oregon.
Portland Parks & Recreation's popular outdoor pools will be open for the summer starting Wednesday, June 21; running through Sunday, August 27, 2023. 
And of course Parks & Rec's Summer Free For All is fun for all!
Oregon Zoo Nights (Fridays through August 18) is giving local music, food carts, beer and wine, activities for all ages, and the chance to get to know some of the animals active during twilight hours.
Portland Highland Games at Mount Hood Community College back after a 3 year hiatus. There will not be a sports competition but there will be great music, dancing and Scottish fanfare!
The Preliminary Rounds of the 2023 Portland's Funniest Person Competition is going down at Helium and your audience response determines the winners!